12 Best Cash Back Credit Cards – Reviews & Comparison
12 Best Cash Back Credit Cards – Reviews & Comparison
Cash back credit cards are popular because they provide tangible, easy-to-understand benefits. Who doesn't like getting a credit on their monthly credit card statement – or, better yet, actual cash deposited into the account of their choice? Cash back credit cards can be even more popular than our top-rated gas credit cards and travel rewards cards.
But not all cash back credit cards are created equally.
Some offer the same cash back rate on all purchases. Others offer higher cash back rates on certain spending categories, such as groceries or gas, and lower rates on everything else. Others offer bonus cash back on spending categories that rotate every quarter. A few accrue cash back on purchases and monthly payments. And some cash back cards even hew to hybrid models, with cash back on certain spending categories and different types of rewards (such as airline miles) on others.
You'll find each type of card on this list of the best cash back cards available to U.S. consumers today. Keep in mind that most cash back credit cards require applicants to have good to excellent credit – usually indicated by a credit score above 700, and sometimes even higher. If you don't meet that threshold, work on building your credit before applying.
Best Cash Back Credit Cards
1. Capital One® Quicksilver® Cash Rewards Credit Card
1.5% Cash Back on All Purchases; $150 Early Spend Bonus
The Capital One Quicksilver Cash Rewards Credit Card complements a host of other Capital One financial products, including the Capital One 360 banking platform. Its cash back perk is attractive and easy to understand: 1.5% cash back on all purchases, everywhere, with no spending caps or rotating categories. You can redeem cash back for a statement credit, bank account deposit, or gift card.
If your spending spans a wide range of categories, this is one of the better general-purpose cash back cards. However, it's not as strong a choice if you're looking to maximize your spending in specific categories, such as grocery purchases or travel.
Here's what you need to know about the Capital One Quicksilver Cash Rewards Credit Card:
Early Spend Bonus: Earn $150 when you make $500 in qualifying purchases within 3 months of opening your account.
Cash Back Rate: Unlimited 1.5% cash back on all purchases.
Redemption: Redeem in any amount for statement credits, bank account deposits, or gift cards. You can also set up automatic redemptions at predetermined thresholds ($25, $50, $100, or $200) and receive your cash back in your preferred mode when you hit the threshold.
Introductory APR: 0% purchase and balance transfer APR for the first 15 months.
Key Fees: There's no annual fee or foreign transaction fees. Cash advances cost the greater of $10 or 3%.
Other Perks: Card membership automatically entitles you to Visa Signature benefits, including travel upgrades, exclusive shopping discounts, and preferred seating at sporting events and concerts.
2. Capital One® Savor® Cash Rewards Credit Card
Unlimited 4% Cash Back on Dining and Entertainment; 2% Cash Back at Grocery Stores; 1% Cash Back Everywhere Else; $300 Early Spend Bonus
Capital One® Savor® Cash Rewards is a premium cash back card designed with foodies in mind. Its unlimited cash back rewards program returns 4% on dining and entertainment spending and 2% on grocery store spending – a nice balance for cardholders who can't decide whether to eat out or stay in.
The $95 annual fee is worth noting upfront, but the first-year waiver ensures it won't erode the value of this card's generous early spend bonus. If you're looking for a card that helps you save money at restaurants and rewards you during the first few months of membership, Savor should be high on your list.
Early Spend Bonus: Get $300 in bonus cash when you spend $3,000 in qualifying purchases within 3 months of opening your account.
Cash Back Rate: Unlimited 4% cash back on eligible dining and entertainment purchases, unlimited 2% cash back on eligible grocery store purchases, and unlimited 1% cash back on all other purchases. Cash back never expires and there's no limit to how much you can earn.
Redemption: Redeem in any amount for statement credits or mailed checks. You can also redeem for gift cards, merchandise, and other items, at variable redemption values. Capital One allows automatic, recurring redemptions at four pre-set thresholds: $25, $50, $100, or $200.
Introductory APR: None.
Key Fees: $0 in the first year, then $95. There is no foreign transaction fee. Cash advances cost the greater of $10 or 3%.
Other Perks: Through December 2019, enjoy a recurring statement credit against a Postmates Unlimited monthly membership. This card comes with a slew of World Elite Mastercard benefits, such as trip cancellation and interruption coverage (a form of travel insurance), price protection, complimentary rental car insurance, and more.
3. Blue Cash Preferred® Card from American Express
6% Cash Back at U.S. Supermarkets and Select Digital Media Services; 3% at U.S. Gas Stations and Transit Operators (Including Rideshare); 1% Everywhere Else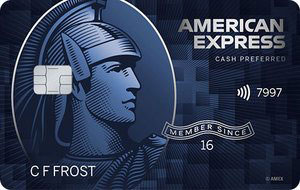 If you love the supermarket, you'll love the Blue Cash Preferred Card from American Express. You get 6% cash back on all U.S. supermarket transactions, up to a $6,000 annual spending limit. Once you hit $6,000, you get 1% back on U.S. supermarket purchases, with no upper limit.
You'll also get unlimited 6% cash back on eligible purchases with digital media and streaming providers such as Netflix and HBO.
There's no spending limit on the U.S. gas station and transit operator categories – you get 3% cash back on every $1 spent in those places, period. American Express treats rideshare operators such as Lyft and Uber as transit operators, which is great news for those who frequently use those services. And you get 1% cash back on all other purchases, with no limits.
Cash back comes by statement credit. However, there's a significant drawback: a $95 annual fee.
Another smaller drawback of the Blue Cash Preferred card is American Express's restrictive definition of "supermarket." Superstores like Walmart, wholesale clubs like Costco, and alcohol retailers aren't considered as supermarkets for this card's purposes. The annual fee does cut into your earning potential somewhat – but since the 6% supermarket cash back doubles what most competing cards offer, you're still likely to come out ahead if you take full advantage of this category.
If you're struggling to meet your $6,000 annual supermarket spending limit with food and dry goods purchases alone, make up the difference by purchasing other merchants' gift cards at the supermarket checkout counter. It's like getting an immediate 6% discount at your favorite restaurants, retailers, and e-commerce websites.
Welcome Offer. If you make $1,000 in qualifying purchases within 3 months of signing up, you get a $250 statement credit.
Cash Back Rate. Earn unlimited 6% cash back on select digital media and streaming services like Netflix and HBO. Earn 6% cash back at U.S. supermarkets, up to $6,000 in spending per year. After that, you receive 1% cash back at supermarkets. This card offers unlimited 3% cash back at U.S. gas stations and transit operators, including rideshare companies like Uber and Lyft. Finally, earn 1% cash back on everything else.
Redemption. The minimum redemption is $25. You can redeem in $25 increments ($25, $50, $75, and so on) for statement credits, and in variable amounts for gift cards and general merchandise.
Introductory APR. 0% APR on purchases and balance transfers for 12 months.
Regular APR: Following the end of the introductory period, the regular APR ranges between 15.24% to 26.24% APR for purchases and balance transfers, depending on prevailing rates and your personal creditworthiness.
Key Fees. There's a $95 annual fee. The foreign transaction fee is 2.7%.
Other Perks. If you attempt to return a purchased item within 90 days and the merchant refuses to accept it, Amex's Return Protection policy refunds the item's entire purchase price, up to $300 per item and $1,000 per calendar year………Read More>>
Source:- moneycrashers
Share: